Gingerbread Mug Cake. A cold-weather, holiday, cozy favorite to whip up in two minutes or less. This Gingerbread Mug Cake is a perfect single-serving cake that will give you that warm feeling and it takes as long to cook as it does to mix up from scratch, which is almost no time at all. Since Fall is here I like to make the most of seasonal flavors, like spices, apples and pumpkin.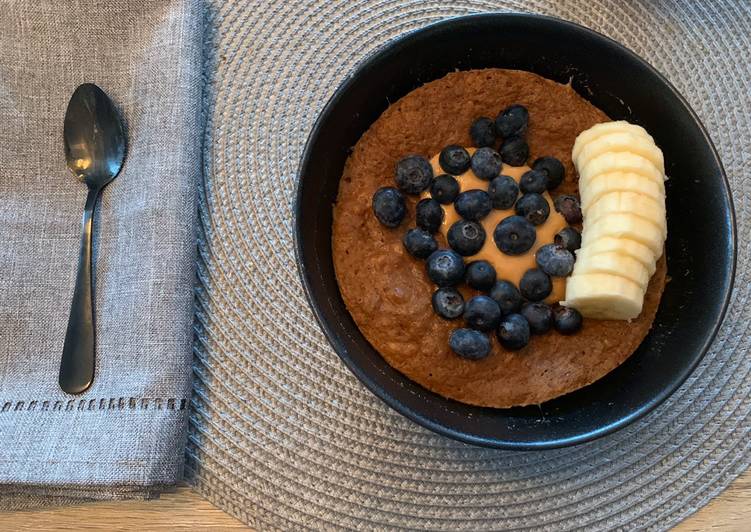 Add all ingredients (coconut flour, baking powder, gingerbread spice, egg, oil, honey, molasses) into the cup and whisk them together until well combined. Add molasses, milk, and sugar to the melted butter and whisk with a fork until evenly combined. Gingerbread Mug Cake Gingerbread Mug Cake. You can cook Gingerbread Mug Cake using 8 ingredients and 2 steps. Here is how you achieve that.
Ingredients of Gingerbread Mug Cake
Prepare 1/2 of Banana – mashed.
Prepare 1 Scoop of Vanilla Protein Powder.
You need 1/4 Cup of Organic Apple Sauce.
Prepare 1 Tbsp of Molasses.
Prepare 1 Tsp of Ground Ginger.
You need 1 Tsp of Ground Cinnamon.
It's 2 of Egg Whites.
You need 1/2 Tsp of Baking Powder.
Quick, fuss free and less washing up. The base of this gingerbread mug cake is banana, just like my chocolate mug cake! Make sure you have an organic quality molasses and fresh ginger to make that gingerbread flavor! I have to be honest with you, I cannot stand when recipes only call for like ¼ tsp. of cinnamon and a pinch of ginger!
Gingerbread Mug Cake step by step
Mix all ingredients into a microwaveable safe bowl. Microwave for around 2:15-2:30min until soft and fluffy (like a cake!)..
Top with anything you like! (I topped it with extra banana, blueberries, and peanut butter) 👍.
This delicious gingerbread mug cake is an excellent holiday option for those with food intolerances because it is low-carb, gluten-free, grain-free, dairy-free, sugar-free and Paleo. I'm not going to lie, I am so thrilled that the holidays are here! When it comes to food, nothing can beat all of the flavorful, rich meals around the holidays. If you have access to a microwave, it takes less than a minute to whip up, but for those without, there is a tested oven option! For such a fluffy yet tender cake, you'd be surprised that this mug cake contains no butter, oil, grains, sugar or dairy!